PACE
Northumberland PACE speakers' series
A collaborative between community health-care providers and local residents interested in learning more and promoting health and wellness, PACE (which stands for Personalized Assessment and Change Education) began as a TED Talks-inspired speakers' series previously hosted (on a rotating basis) at Northumberland Hills Hospital in Cobourg and the Community Health Centres of Northumberland, in Port Hope. Due to the physical distancing requirements of the COVID-19 pandemic, we have temporarily moved the event to a virtual format, using Zoom.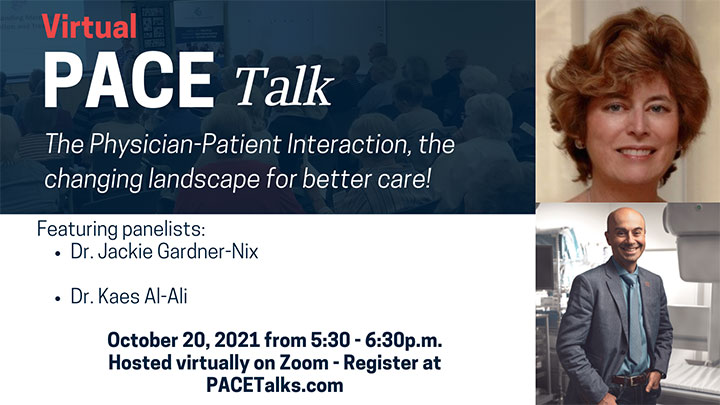 Northumberland Hills Hospital, the Northumberland Family Health Team, the Community Health Centres of Northumberland, internal medicine specialists IMCare and local patients and caregivers are all represented on the Northumberland PACE planning table.
From October 2021 through June 2022, talks will be held monthly at 5:30 PM, on the third Wednesday of the month. One hour in total, each talk consists of a 30-minute presentation followed by a 20-minute, interactive question and answer speaker/audience discussion and a short moderator summary to conclude.
"Seats" are available free of charge, on a first-come, first reserved basis. Pre-registration is required. After registering you will receive a confirmation email containing the necessary link/login information. For information on our next session, and links to recordings of previous events, please see below. Questions? Contact Jennifer Gillard at 905-377-7757 or jgillard@nhh.ca
Upcoming 2021 - 2022 PACE Events
| | | | | | |
| --- | --- | --- | --- | --- | --- |
| Date | Topic and related media release | Speaker | Location | Registration | Archive |
| Oct 20, 2021 | Physician-Patient Interaction, The Changing Landscape for Better Care! | Dr. Jackie Gardner-Nix, Dr. Kaes Al-Ali | Zoom | | |
| TBA | More Events Coming Soon | TBA | | | |
Highlights from previous PACE Events
Date

Topic

Speaker

Location

Archive

Apr 21, 2021

Dr. Anuja Sharma, Maureen Pollard

Zoom

Watch Video (139MB)

View Slides (13MB)

Mar 17, 2021

An Overview of Navigating the Medical System in Northumberland at End of Life

Dr. Kate Everdell

Zoom

Watch Video (72MB)

View Slides (1.26MB)

Feb 17, 2021

Taryn Rennicks, Simeon Kanev, Dr. Erin Pepper

Zoom

Hear Audio (63MB)

Watch Video (128MB)

Jan 20, 2021

Dr. Pavel Ketov, Dr. Michael Barrie, Dr. Madhav Rao

Zoom

Hear Audio (54MB)

​Watch Video (192MB)

Aug 19, 2020

Caring for Loved Ones at Home....A Caregiver's Perspective

William (Bill) Prawecki

Zoom

​Watch Video (143MB)

Feb 19, 2020

Integrative Medicine - a Panel Discussion

Dr. Merepeza, Dr. Ahooja, Dr. Weiss and Dr. Vosburgh

NHH

Hear Audio (92MB)

​Watch Video (490MB)

Jan 15, 2020

Medical Assistance in Dying (MAID) - Where Are We in 2020?

Dr. Mark Essak

CHCN

​Watch Video (170MB)

Dec 18, 2019

Don't Be a Vector! How to Prevent Spreading Infections - and Getting Them

Dr. Daniel Ricciuto

NHH

Hear Audio (36MB)

​Watch Video (300MB)

Nov 20, 2019

Farm-to-Table Eating

Paul Burnham

CHCN

Hear Audio (23MB)

​Watch Video (162MB)

Oct 16, 2019

Music Therapy - The Science and Benefits

Taelor Dunn

NHH

Hear Audio (26MB)

Watch Video (257MB)

Sept 18, 2019

Memory Loss - When it Becomes a Problem and How to Get Help

Karen Truter

CHCN

Hear Audio (24MB)

​Watch Video (183MB)

May 15, 2019

Caring for your Skin

Dr. Anuja Sharma

NHH

View Powerpoint (4.5MB)

Apr 17, 2019

The Science of Mindfulness

Dr. Jackie Gardner-Nix

CHCN

View Powerpoint (840KB)

Mar 20, 2019

The Good, the Bad and the Ugly: Finding Quality Health Information Online

Amanda Ross-White

NHH

View Powerpoint (6MB)

Feb 20, 2019

Ancient Wisdom with Today's Food

Dr. Deepa Bhargava

CHCN

View Powerpoint (4MB)

Jan 16, 2019

Science of Happiness

Dr. Mukesh Bhargava

NHH

Watch Video (293MB)

Dec 19, 2018

Chronic Pain and the Symptom Cycle

Dr. Francesco Mule

CHCN

Watch Video (269MB)

Nov 21, 2018

How to Prepare for Your Trip to the Emergency Department

Dr. Peter Barnett

NHH

Watch Video (186MB)

Oct 17, 2018

What to Consider When Preparing Food for Those Dealing With an Illness

Adam Hudson

CHCN

​Watch Video (173MB)

Sept 19, 2018

The Use of Technology (Apps, Phones, Monitors) for Better Health

Dr. Mukesh Bhargava

NHH