Northumberland PACE Speakers Series Returns for November with a Focus on Life and Living at End-of-Life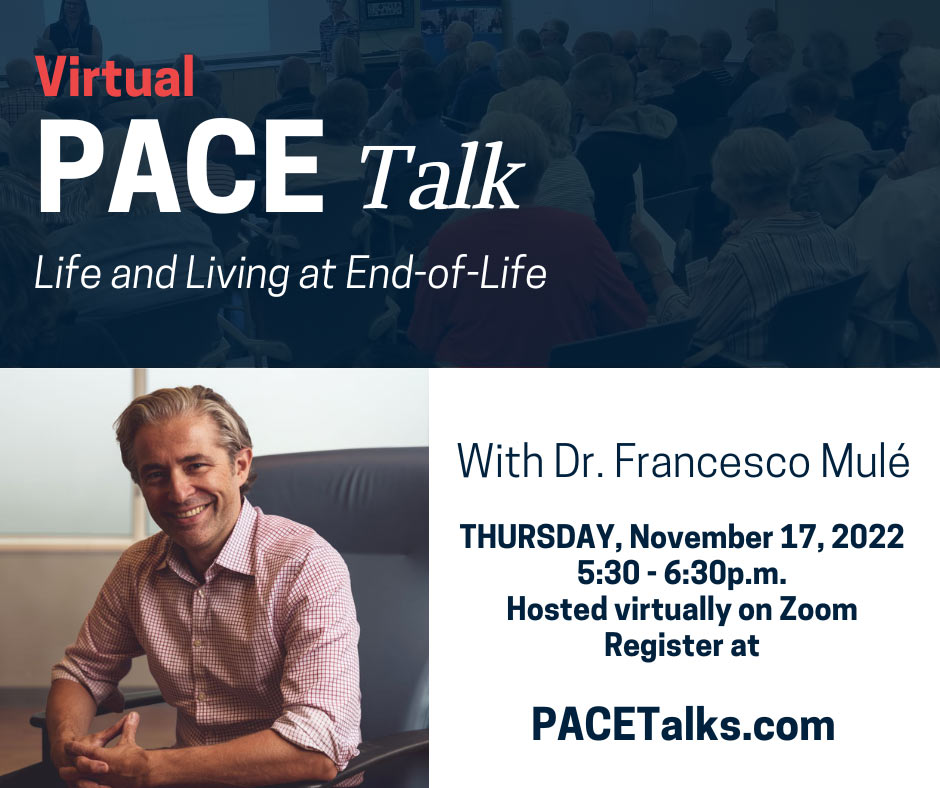 This month, the Northumberland PACE Talk series will continue for the 2021-22 season with a talk exploring Life and Living at End-of-Life. Led by Dr. Francesco Mulé, Lead of Palliative Care at Northumberland Hills Hospital (NHH), this talk will take place via Zoom on Thursday, November 17 at 5:30 PM.
Serving as patient service lead for palliative care at NHH for more than five years, Dr. Mulé has experience helping local patients and their families navigate end-of-life care. During this informative PACE Talk, he will use this experience to help attendees reflect on the inevitability of end-of-life.
As is standard within the PACE Talk format, questions from the audience will be addressed, and these can be pre-submitted by emailing mbhargava@imcare.ca prior to November 16, 2022.
Since 2018, The Northumberland PACE talks have been hosted as free public education sessions on a broad range of health and wellness topics and have consistently drawn large groups of community members with a range of questions and perspectives. Like many other events, The Northumberland PACE speakers series adapted to a new, virtual format as a result of the COVID-19 pandemic. Participating partners continue to increase, with the Ontario Health Team of Northumberland joining the founding partners at the planning table for the 2022-23 season.
Lasting an hour in length, each PACE event consists of a 30-minute talk, a 20-minute question-and-answer period with the guest speaker(s) and a short moderator summary.
Bring your questions, your suggestions, and your experience and join in what is expected to be another informative discussion on a topic chosen by previous PACE attendees!
Pre-registration is required and space is limited to the first 300 registered attendees. This event will be hosted through Zoom, and attendees are asked to login to the event 5 minutes prior to the start. Register for Life and Living at End-of-Life today at www.pacetalks.com, where you'll also find video and highlights from many of the previous seasons' talks. For those unable to attend, efforts will be made to share a recording of this conversation following the event, technology permitting.