NHH Auxiliary Thrift Shop Petticoat Lane Welcomes Back Customers!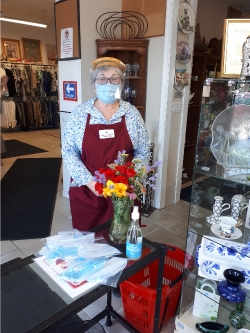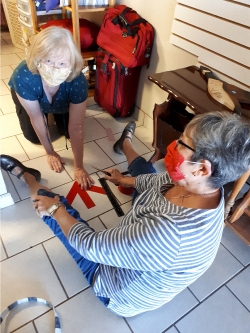 Petticoat Lane is now open for business! With guidance from government resources as well as hospital input the Auxiliary volunteers worked over 850 volunteer hours between the end of May and June 30th to ensure that the shop was ready to reopen on July 2nd with a focus on the health and safety of the customers and our volunteers. The number of customers allowed in the store at a time is limited and face coverings must be worn, no exceptions. The well being of the community was first and foremost in the decisions that were made. Sanitizer is provided and aisles are designated one-way only with directional arrows on the floor. For your protection, the preference is that payments be cashless and debit is available with a minimum $5 purchase.
The store, located at 25 Munroe Street, Cobourg, is currently open Tuesday to Saturday 11:00 AM to 4:00 PM. Donations are accepted Monday, Wednesday & Saturday from 9:00 AM to 3:00 PM and those with questions may call the store directly at 905-372-9002 and Petticoat Lane is managed by the volunteers of the Northumberland Hills Hospital Auxiliary. For over 50 years The Lane has been offering rock bottom prices on everything in the store and the bonus is that there is no sales tax because it's a charitable fundraising shop, all proceeds support NHH. Thank you sincerely for your continued support!
About the NHH Auxiliary - The Northumberland Hills Hospital Auxiliary volunteers are dedicated individuals of all ages who work alongside hospital staff supporting the work of virtually every department. Whether delivering water jugs to patients, helping in various service areas throughout the hospital, making and selling craft items, taking shifts in Auxiliary's two retail operations (The Little Treasure Shop, at NHH, and Petticoat Lane, on Munroe Street in Cobourg) or providing a warm welcome at the main entrance – Auxiliary volunteers have played a critical role in strengthening the quality of care and experience at NHH. Volunteer presence has been temporarily restricted at NHH due to the COVID-19 pandemic. NHH looks forward to welcoming volunteers back into the hospital in the near future. For background information on the Auxiliary, please visit https://nhh.ca/Volunteers/NHHAuxiliary