Steps taken to protect Emergency Department capacity - COVID-19 Assessment Centre open at NHH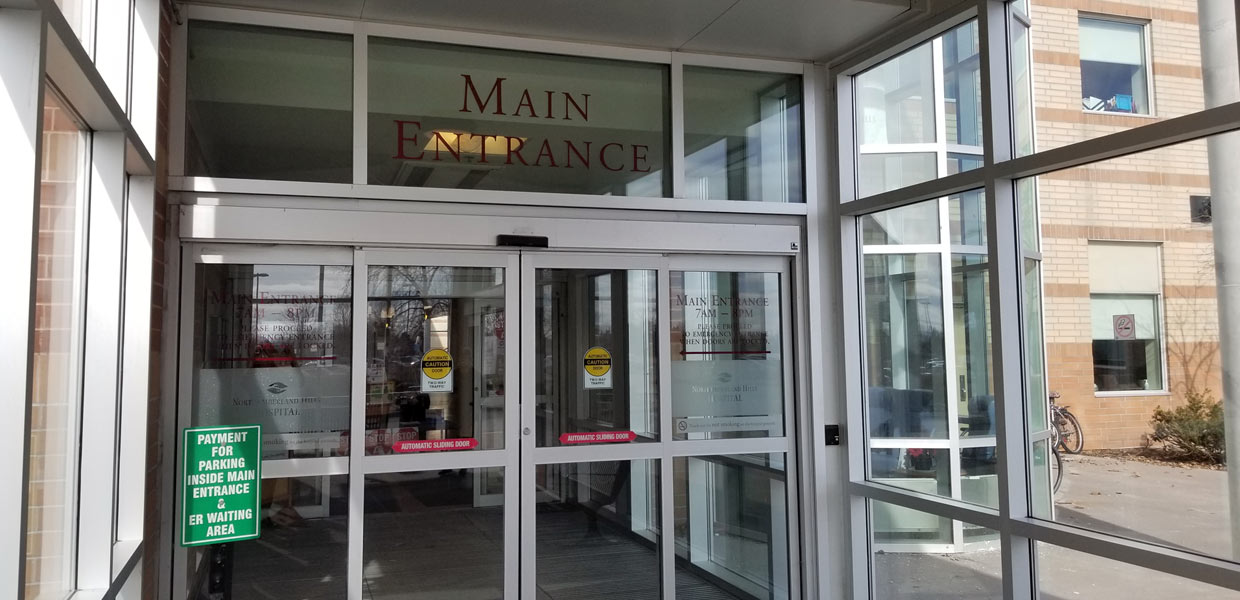 Northumberland Hills Hospital (NHH) is taking proactive measures in the COVID-19 response to open a COVID-19 Assessment Centre. The centre will be used exclusively for the purpose of COVID-19 assessments and testing.
Offered in addition to the existing COVID-19 resources (Telehealth Ontario, local Public Health hotline, primary care and Emergency Departments) the COVID-19 Assessment Centre opened today in the Ambulatory Care Clinic area of NHH at 1000 DePalma Drive, immediately inside the main front entrance. The Centre will be open daily from 8 AM to 8 PM. Hours of operation may change as needed.
The Centre will provide assessment and testing for individuals of all ages.
The Assessment Centre is for individuals with mild symptoms who have:
1. Returned from international travel AND are displaying symptoms associated with COVID-19, including:
fever and/or
new or worsening cough
OR
2. Had contact with someone diagnosed with COVID-19 in the past 14 days AND are displaying mild symptoms associated with COVID-19, including:
fever and/or
new or worsening cough
The NHH COVID-19 Assessment Centre will screen patients, test (if deemed appropriate) and direct patients to proceed as required. These directions may be to go home with no action required at this time; home on self-isolation to await a test result; or onward to the NHH Emergency Department for further assessment by the health care team within the ED.
Walk-ins to the NHH COVID-19 Assessment Centre are permitted. Individuals may also call the Assessment Centre directly during its 8AM to 8PM operating hours to determine in advance if they are not sure if they should be assessed (see number below).
All NHH services are operating as normal at this time.
As COVID-19 evolves, NHH will continue to work with its partners to ensure safe, coordinated practices in our community.
Below are all the options available to call locally if you have questions or concerns regarding COVID-19:
NEW NHH COVID-19 Assessment Centre - 905-377-7783 (note: available between 8AM and 8PM daily)
HKPR District Health Unit – 1-866-888-4577 ext. 5020
Telehealth Ontario – 1-866-797-0000
In the event that symptoms are severe, call 911 and alert the dispatcher to the potential concern regarding COVID-19 so they can be appropriately prepared.
For the most recent provincial information on COVID-19, including symptoms to watch for and the status of cases in Ontario, see Ontario's dedicated COVID website: ontario.ca/page/2019-novel-coronavirus or the local Public Health website at www.hkpr.on.ca. Answers to frequently asked questions and links to additional resources will be found on NHH's dedicated COVID-19 page: NHH.ca/COVID-19
View/download the news release pdf