NHH strategic planning process enters validation phase – in-person and online opportunities to share feedback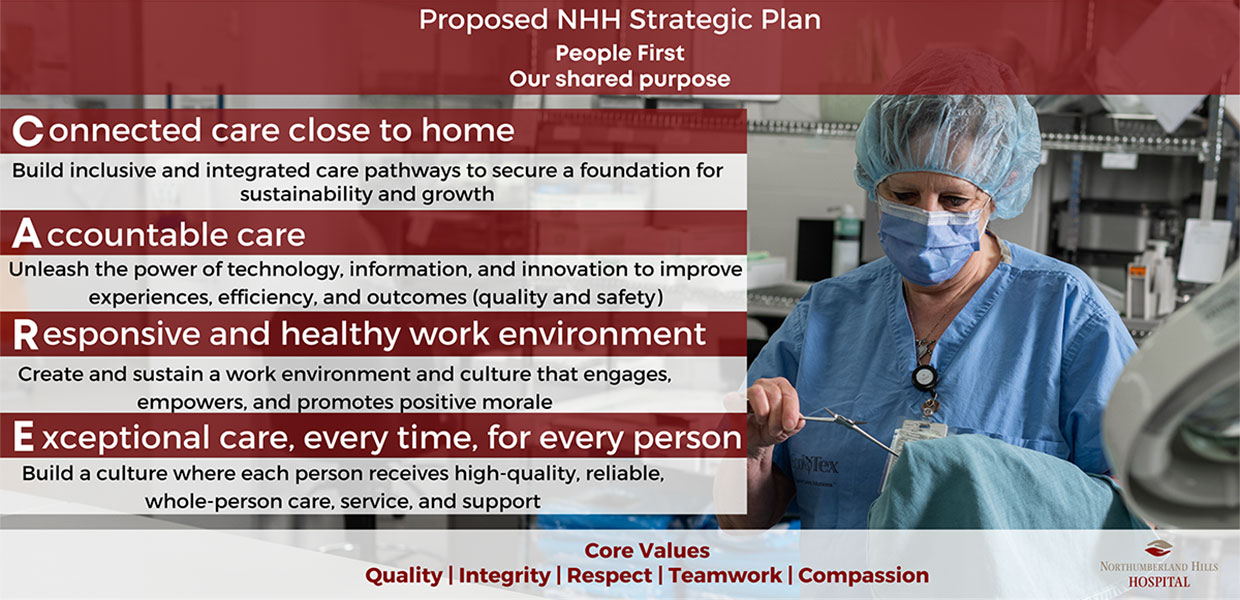 While COVID-19 and immediate pressures remain very much on the minds of every member of the Northumberland Hills Hospital (NHH) team, the hospital's Strategic Planning Collaborative Action Team (SPCAT) has also been working hard to prepare for future needs.
In a staff forum last week, President and CEO Susan Walsh confirmed that the consultation phase of the SPCAT team's strategic planning research, done in collaboration with Ontario Health Team of Northumberland partners, is almost complete.
"Working with our partners at the OHT-N we logged more than 500 touchpoints with local residents, patients, health-care providers and partners and we have arrived, after careful discussion at our own Strategic Planning Collaborative Action Team table, on four proposed strategic priorities for Northumberland Hills Hospital and a new (proposed) shared purpose," said Walsh.
With in-hospital engagement stations and a companion online survey, the hospital is now in the process of validating its proposed priorities with key stakeholders, including patients, visitors, staff, physicians, midwives, volunteers and partners.
"These are extremely busy times inside our hospital and community mental health services. We're offering a mix of very easy and accessible opportunities to add as many voices as possible to this final validation effort to ensure we captured the priorities we needed to. Everyone is invited to share input," said Walsh.
Four engagement stations have been set up at main entrances at 1000 DePalma Drive and in NHH's Community Mental Health Services and Walk-In Counselling Clinic located at 1011 Elgin Street West, Suite 200 Cobourg. The stations are stocked with a quick ata-glance display of NHH's proposed priorities and shared purpose, and post cards for anyone to quickly weigh in with their thoughts as they pass by. A roaming team will also be taking the feedback cards unit-by-unit to bring the questions directly to patients, staff, and volunteers. Outside the hospital and Community Mental Health Services offices a companion survey on the hospital's public website and social media channels is now open as well, using a simple Survey Monkey poll. The link to the online survey option will be found here: https://www.surveymonkey.com/r/8PWLCJS
"This very interesting journey of consultation, reflection and priority setting is almost complete," said Walsh. "Our SPCAT, a 23-member multi-disciplinary team of hospital, volunteer and patient/caregiver representatives, has been working toward this goal since first coming together in February. By Friday, August 26th we hope to have all input collected at which point we will bring our proposed strategic priorities and shared purpose to our Board of Directors for approval," said Susan Walsh. "The broader regional strategic plan, led by the OHT-N, is anticipated later this fall."
"On behalf of our SPCAT, I want to thank everyone for the continued interest in this important process. I'm very excited about the opportunities—and challenges—that lie ahead for Northumberland Hills Hospital and I'm very confident that all the input gathered to date, and the supporting health and related data we've collected as well, will set us on a path to grow even stronger, together."