Congratulations to local students Alishia Campbell, Meaghan Catton and Alicia Zoldy, recipients of NHH's 2022 Health Professions Scholarships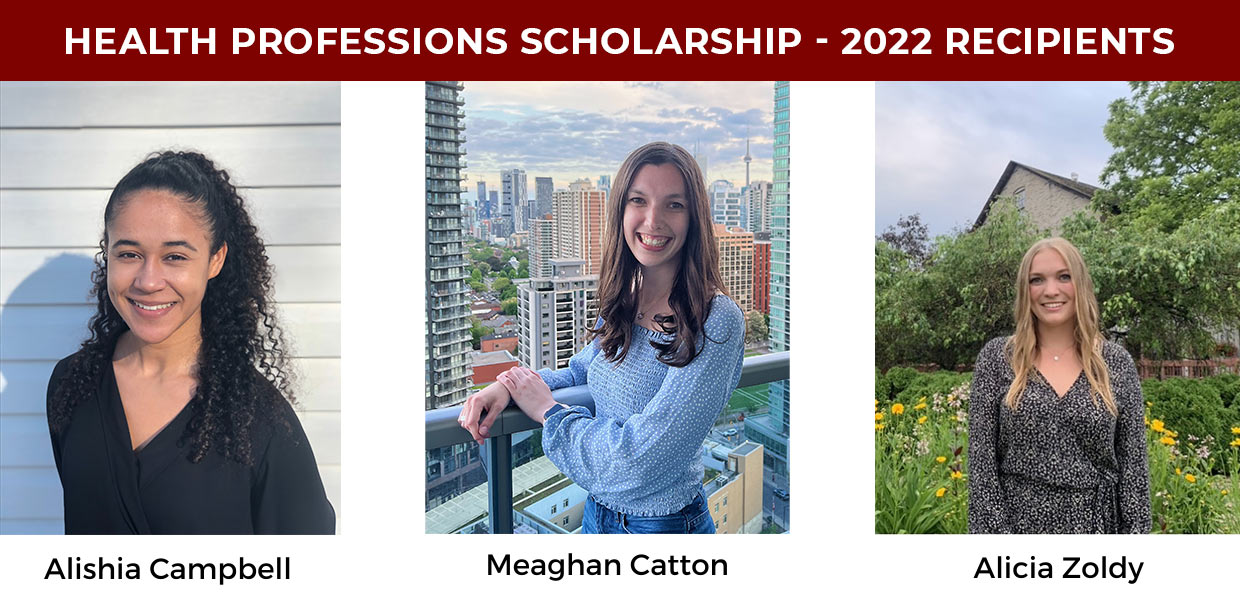 Alishia Campbell, Meaghan Catton, and Alicia Zoldy are the recipients of Northumberland Hills Hospital's 2022 Health Professions Scholarships.
The scholarships, a prize of $1,500 per student, were announced virtually by Hospital Board Chair Pam Went at the Board of Director's meeting earlier this evening. The presentation continued a tradition started by the volunteer Board in 2003 to support students from west Northumberland who have chosen to pursue a career in the healthcare sector
In addition to being enrolled or accepted for enrollment in a full-time study program, applicants are evaluated on a combination of criteria, including:
academic achievements
extra-curricular activities
a testimonial explaining (in their own words) their career goals, and
written references.
Details of the 2022 scholarship winners' achievements were shared as follows at the presentation which served as the first item of business on the Board's June Board meeting agenda.
Alishia Campbell, Cobourg
An accomplished student, Alishia is currently enrolled in the Respiratory Therapy Program at Conestoga College in Kitchener, Ontario. Prior to her current studies, Alishia earned an Honours Bachelor of Science in Kinesiology from the University of Waterloo where she was a Dean's Honour List recipient, a distinction awarded to graduating students with an average higher than 80 per cent.
Alishia's professional aspirations of a career in healthcare are complemented by her past volunteerism and academic achievements.
A decorated volunteer in the health care field, Alishia has logged countless hours of experience between Belleville General Hospital's Children's Treatment Centre and GRASP Occupational Therapy Program, and the Hospital Elder Life Program at Northumberland Hills Hospital. She also has a publication in the Respiratory Therapy Society of Ontario Airwaves.
Alishia's academic merits were described with high praise by Tim LePage, Respiratory Therapy Program Coordinator at Conestoga College in a letter of reference which described her as "very disciplined and focused on her studies."
"I have observed Alishia's effective communication skills with peers and teaching staff, and I know she will be an asset to the Respiratory Therapy field," Mr. LePage noted. "A critical thinker, kind and patient individual, she harbours innate personality traits that will help her well in the future."
Alishia's self-motivation and drive has also been highlighted by her peers in her home community of Cobourg, where she is well-known in the sports and athletics community. As COVID-19 restrictions began to lift, Alishia was celebrated by community members for helping to plan a weekly drop-in sporting event to create a safe, enjoyable activity. Through her studies and her extracurricular pursuits, Alishia strives to promote health and wellness while building community.
Meaghan Catton, Cobourg
Currently enrolled as a first-year student at the University of Toronto's Master of Health Science Speech-Language Pathology Program (SLP), Meaghan holds a Bachelor of Interdisciplinary Health Sciences (French Immersion) from the University of Ottawa and graduated Summa Cum Laude while receiving the Merit Scholarship six times throughout her undergraduate studies.
Meaghan is also a recipient of the French Studies Bursary, the Bronze and Silver Duke of Edinburgh Award, the CIBC Mentorship Scholarship, and was the sole candidate from Ontario to be awarded a scholarship by Wallonie-Bruxelles International to study French at the Université libre de Bruxelles.
Her academic achievements are complemented by volunteerism with the Hospital Elder Life Program (HELP) at Northumberland Hills Hospital, Learn to Skate Assist, Environmental Outreach for local schools, Run for Women and additional opportunities at the Ottawa Hospital.
Meaghan's professional merits were strongly endorsed by Julie Behan-Jones, Assistant Manager, Waterfront Operations with the Corporation of the Town of Cobourg, who recognized her 'as a valued staff member.'
Her reference letter praised Meaghan's commitment to her hometown of Cobourg, stating "Ms. Catton was very clear with regards to her goals and commitment to her hometown during her career with the municipality and continues to provide me with updates on successes and hopes with regards to beginning her advocacy in the community that she grew up in. She consistently outlined her plan to return to the area and find employment using her education and training to 'give something back' and from her tenacious attitude I believe she will accomplish her goals."
Meaghan's interest in speech and language studies was inspired by her sister, who was diagnosed with Autism Spectrum Disorder (ASD) over fourteen years ago. She credits the impact of speech therapy for giving her sister a voice and hopes to empower others by pursuing a career in Speech and Language Pathology.
Alicia Zoldy, Cobourg
As a first-year graduate student pursuing a Masters in the Speech-Language Pathology (SLP) program at the University of Western Ontario, Alicia holds an Honours Bachelor of Arts in Psychology with a concentration in Cognitive Psychology and a minor in Linguistics from Carleton University. In addition to her degree, Alicia has made the Dean's List on many occasions and was the recipient of the President's Scholarship, Lester Bowles Pearson Scholarship, and Gordon Robertson Scholarship.
Alicia's extra-curricular contributions include volunteering with the HELP program at NHH, the Aphasia Centre of Ottawa and serving as Carleton University's dragon boat team captain.
Alicia's achievements were recognized and celebrated in a letter of support from Julie Theurer, Assistant Professor with the Faculty of Health Sciences at Western University, who described Alicia as a 'mature, industrious, and committed student.'
Her letter offered additional support of Alicia, noting "She approaches each day with a smile and a 'can do' attitude. One of the most impressive qualities I've come to learn from Alicia is her community-mindedness. She speaks very highly of her volunteer experiences at NHH, and is committed to returning to the community to contribute in a professional capacity."
Alicia's commitment to continued education and volunteerism in the field of SpeechLanguage Pathology is continually being recognized by her professors at Western University. Under the clinical supervision of Professor Taslim Moosa, Alicia and her SLP colleagues run an aphasia group where her interactions with patients have been described as 'exemplary.'
"The hard work and commitment to quality demonstrated by our three 2022 scholarship recipients is inspiring," said Pam Went in her concluding remarks. "We typically present two awards and this year we simply could not narrow it down to two. These young women have all excelled through exceptionally challenging times. Their families and teachers should be very proud. The strength and resilience they have shown, and the steadfast focus on their goals while also giving back to their communities bodes very well for their future and ours. It is a true pleasure to present each of them with a small token of this hospital's support for their efforts. Congratulations on your achievements to date, Alishia, Meagan and Alicia, and best wishes as you work toward your next academic goals."
Information on the requirements for the annual award will be found under the Careers section of the hospital website, nhh.ca. Applications are invited at any time, but typically close in February of each year with winners announced at the June meeting of the Board.