Ontario delivers over $1 million in funding for Northumberland Hills Hospital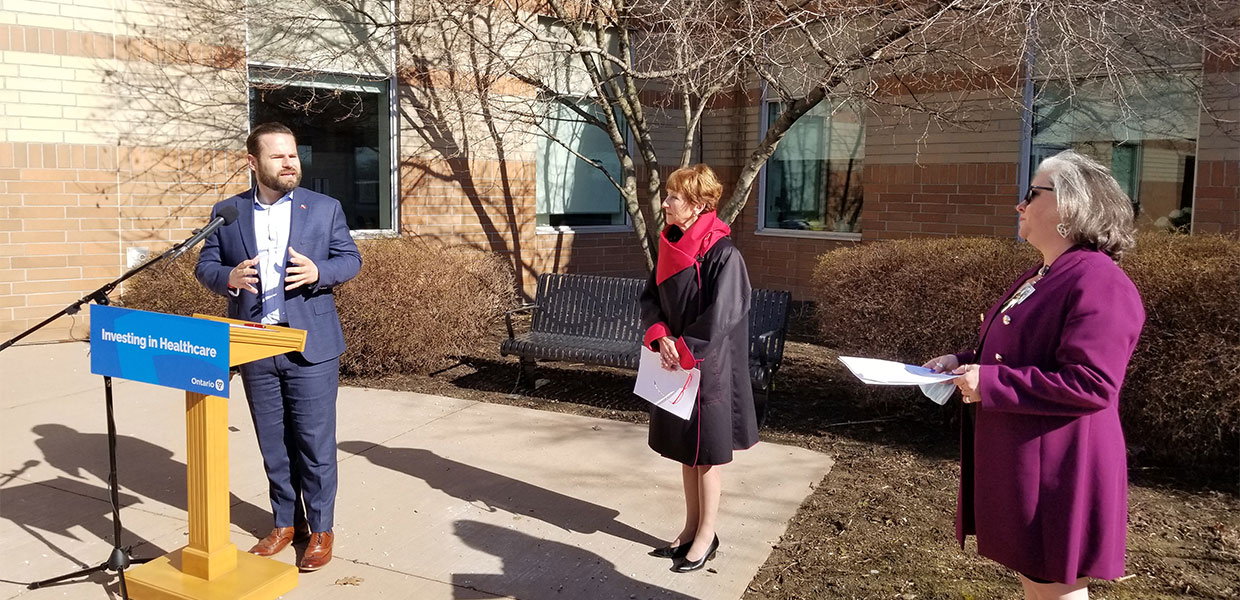 David Piccini, MPP for Northumberland-Peterborough South was joined by Mandy Martin, Deputy Warden of Northumberland County; Susan Walsh, President and CEO of Northumberland Hills Hospital, and members of the team of Northumberland Hills Hospital, to announce $1,135,000 of funding for the hospital.
As a result of the COVID-19 pandemic, all hospitals have felt financial challenges not only through direct costs, but also through the loss of other forms of budgeted revenue, such as: copayments for private rooms, parking, and the reduction of hospital-operated retail sales volumes, all of which contribute to patient care and support clinical services.
To support frontline workers in delivering the best possible care and to build on previous increases to base funding, the Government of Ontario has allocated over $1,000,000 to Northumberland Hills Hospital.
"Our government is committed to protecting the progress Ontario made in healthcare over the past two years," said David Piccini, MPP for Northumberland-Peterborough South. "Ontario remains committed to supporting Northumberland Hills Hospital so that they can continue to provide the care our community needs and deserves, today and in the future."
"The past two years have been difficult for our hospitals on many fronts, with significant financial impacts, in addition to the toll on health human resources," said Deputy Warden Mandy Martin. "I'm delighted to see the provincial government provide this vital support of over 1.1 million dollars, which will help to ensure NHH remains in a position to continue to provide the outstanding and crucial care our residents rely on."
"Maintaining consistent revenue is critical to the delivery of services within any operation and hospitals are no different," said Susan Walsh, NHH President and CEO. "In addition to our operating funding, we also rely (and budget for) anticipated revenue from self-generated sources. The pandemic disrupted many of these sources, and we are very grateful for MPP Piccini's ongoing advocacy for NHH's financial stability, the recognition for the impact of this lost revenue on our bottom line, and the government's strategy to help offset these material losses due to COVID. The revenue announced today was received in January for fiscal year 2020/2021 and it is already benefitting care at NHH. We are hopeful that this support will be continued through this prolonged pandemic."