October is Breast Cancer Awareness Month – Sara's story is inspiring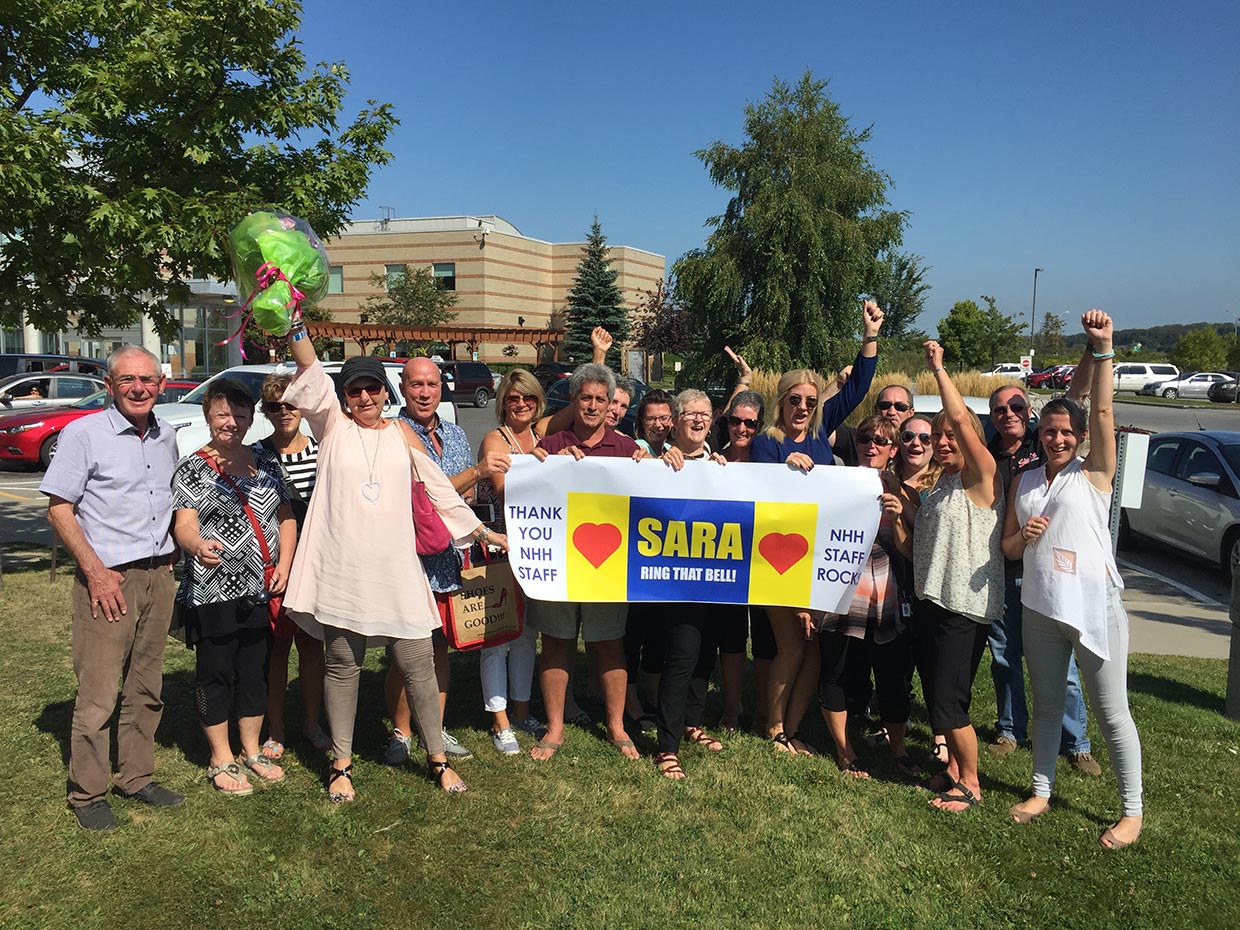 May 1999. Sara Coulson, working mother of a six- and four-year-old, was diagnosed with breast cancer in Cobourg. A lumpectomy was performed at what was then the Northumberland Health Care Centre. Chemotherapy and radiation followed for six months, an hour and a half away, at Kingston General Hospital. Sara recovered, and her children grew up.
Flash forward 18 years to February 2016. The cancer returned to the same breast. Sara was visiting Florida at the time with her family and learned the news—abruptly—following an Emergency Department ultrasound.
"I flew home to Northumberland right away to see my own General Practitioner, Dr. Nearing, who quickly set up an appointment with the NHH Diagnostic Imaging team," she explained. NHH's Wendy Scott, Senior Medical Radiation Technologist, performed the mammogram—the same as she had for Sara 18 years earlier. Another ultrasound and a biopsy later—cancer was confirmed.
Treatment was set to begin at Easter. Blood counts failed to show the readings required, however, and Sara's chemo had to be delayed, then extended, for a total of 16 rounds over 20 weeks before she could finally ring NHH's end-of-treatment chemo bell.
For each of these weeks Sara and her husband came to NHH each Wednesday and Thursday. Blood work on the first day and, as Sara dubbed it, "Chemo Thursday." Her husband, Gary, was with her almost every time; her Mom made dinner for them both each week, to help them get through.
Wanting to do something kind for the people helping her, Sara regularly brought little treats for the nurses… donuts at first, then healthy snacks as the weeks wore on.
"They were phenomenal," she says, repeating often in the course of our conversation the many kindnesses she received from the Cancer and Supportive Care Clinic team. "They listened. They gave me their opinion when I asked for it. As much as my husband was my rock, they were too…. I just can't say enough about how great they were to me, and how important that is to getting through this… to getting better. They're amazing as a team, but they're amazing individuals, too—they actually took an interest in my life outside of cancer and chemo. That made a huge difference to me."
Volunteers also made an impact on Sara's 20-week chemo journey. "It was so nice to be greeted with a big smile," she said. "It just makes you feel… 'I can get through this!'"
The nursing staff had their own praise for Sara. "Though she was a patient, Sara quickly established herself in our small unit as a supporter of others," observes NHH Charge Nurse Andrea Doyle-Philp. "She refused to play the part of a sick person and I think, in a way, that helped others around her too. She cheered others on."
Sara laughs at this description. "I guess I'm a positive person," she agrees. "I'm not the kind to cower away. I refuse to let cancer define who I am. Life still has to be as normal as it can be. It's not going to take me down!"
With chemo now behind her, again, Sara has moved on to the next stage of this breast cancer treatment: a double mastectomy, also performed at NHH, by Chief of Surgery, Dr. Andrew Stratford. Dr. Rama Koneru, Sara's oncologist , oversees her monitoring following chemo, also here at NHH, thanks to our affiliation with the Durham Regional Cancer Centre.
"It is so important to me to be in my community," said Sara. From the treatments and surgery itself, to the other supports, like social worker Chantal Lelievre, who helped Sara work through decisions regarding reconstruction, and the Look Good, Feel Better program, coordinated locally through NHH Nurse Navigator Kim Baxter. "It was really helpful."
Beyond the hospital's walls is the support Sara received from her broad network of family and friends, both here in Northumberland and in Florida, where they spend vacations.
"Of our Florida gang—five couples—three of the five have had breast cancer. I have an awesome support team in both locations, and I could not be more grateful."
To others who may be going through a breast cancer diagnosis, or monitoring their own health, Sara's resilience is inspiration enough. She also has two pieces of simple advice: "the power of positive thinking—it's real"… and "Be proactive—don't miss your mammograms! Stay on it!"
Thank you, Sara, for sharing your story and your optimism. We wish you a speedy journey beyond breast cancer.
To learn more about breast cancer prevention, screening, treatment and recovery, please mark your calendar for NHH's Beyond Breast Cancer information event, coming up on Wednesday, October 25th, from 6:30 PM to 8:30 PM, in the NHH Education Centre, 1000 DePalma Drive. Local and provincial health and social care experts will come together with area residents for an evening of informative presentations, interactive discussion and information displays. See details on the hospital's website at Beyond Breast Cancer - Community Information Event. All welcome.