NHH welcomes Accreditation Canada peer surveyors for on-site survey September 12 through 15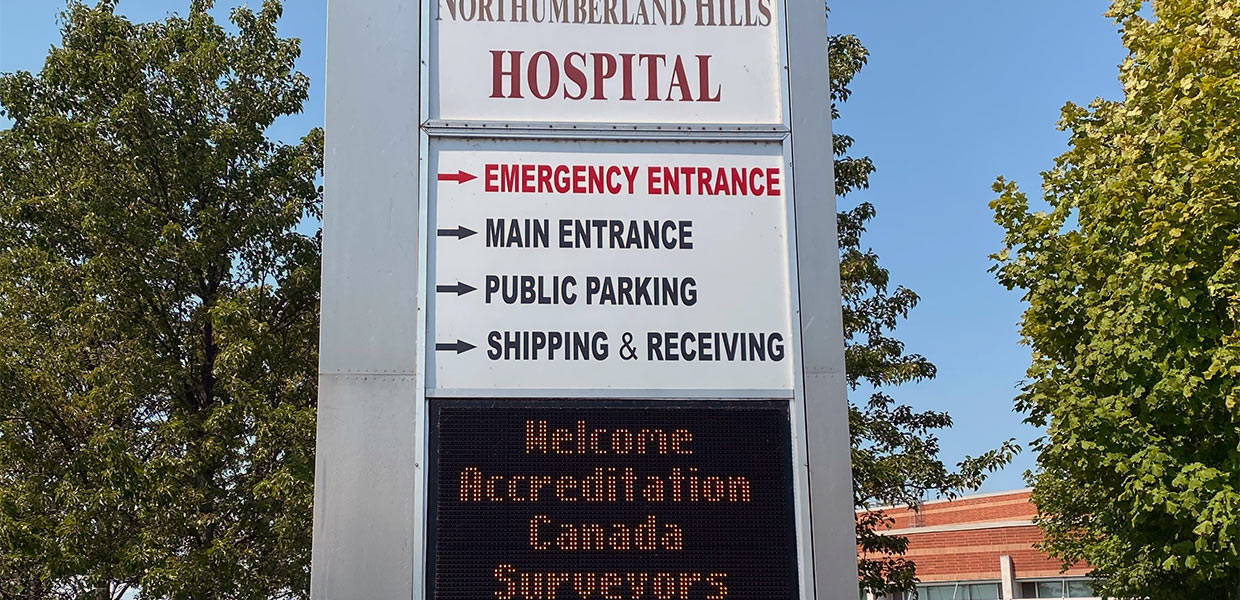 Northumberland Hills Hospital (NHH) will host three peer surveyors from Accreditation Canada on Monday, September 12 through Thursday, September 15. While the work required to participate in this internationally recognized quality improvement program is rigorous, the benefits of the accreditation journey are many.
"Every member of our team is committed to quality and safety in health care delivery. Accreditation through Accreditation Canada's Qmentum program is not a one-time affair," said Susan Walsh, President and CEO, "it is actually a journey, over many years, and an ongoing opportunity to continuously assess our organization's processes against evolving standards of excellence to identify what we are doing well today and what may need to be improved in the future."
An Accreditation Canada surveyor herself, Walsh notes that accreditation with Accreditation Canada is a voluntary process. "Many hospitals in Ontario choose to participate in the Accreditation Canada program, as do home- and long-term care providers, community and public health, mental health and addictions treatment facilities, labs, private clinics and more. I have been privileged to be part of the experience from both sides, both as a surveyor and as a member of an organization being surveyed."
While generally conducted on a four-year cycle in the past, NHH's last Accreditation Canada survey took place in 2017. Delayed by several years due to the pandemic, the subsequent on-site survey is the latest opportunity for teams throughout NHH to showcase performance against key priority processes while also highlighting the hospital's resilience through a period of unprecdented global and local change.
How does the Accreditation Canada program work?
NHH staff, physicians, and volunteers began the accreditation process by completing a series of self-assessments against Accreditation Canada standards. These standards examine an organization's governance, leadership, risk management, infection prevention and control, and medication management measures, as well as the quality of care experienced in those care areas.
The on-site survey that will be conducted at NHH September 12 to 15 is the next step in the process. NHH's 2022 survey will be conducted by three trained peer surveyors: Dr. Gayle Campbell, Dr. Andrew Wiilliams and Donnalene Tuer-Hodes (see attached news release below). It focuses on the processes used to deliver care, not on individual health care providers, and the whole organization is involved, from front-line staff and volunteers to board members, patients and families.
After the on-site survey, the surveyors will submit a preliminary report to NHH and to Accreditation Canada. Accreditation Canada will in turn examine the surveyors' report before providing NHH with a final report and an accreditation decision (Accredited, Accredited with Commendation or Accredited with Exemplary Standing) based on the information gleaned from the on-site survey.
The results of the on-site survey provide guidance to the organization regarding areas of success and areas where improvements can be made in future quality improvement initiatives.
"Accreditation is not something with a start and a finish, it is a continuous process," adds Elizabeth Selby, Chair, NHH Board of Directors. "Quality oversight is at the heart of our Board's responsibilities and we applaud the team's participation in the Accreditation Canada process through the years. Everyone at NHH strives to deliver exceptional patient care, every time, but no organization is exceptional all the time. We know there is always room for improvement. What is unique about this process is that it reviews compliance against Required Organization Practices related to high-risk areas across the entire organization, not simply one or two programs. The Board looks forward to learning how NHH is doing in 2022 in comparison to these evolving practices, and sharing this with our community. It's an assessment that is arguably all the more important in light of the exceptional strain of recent years."