NHH Accredited with Exemplary Standing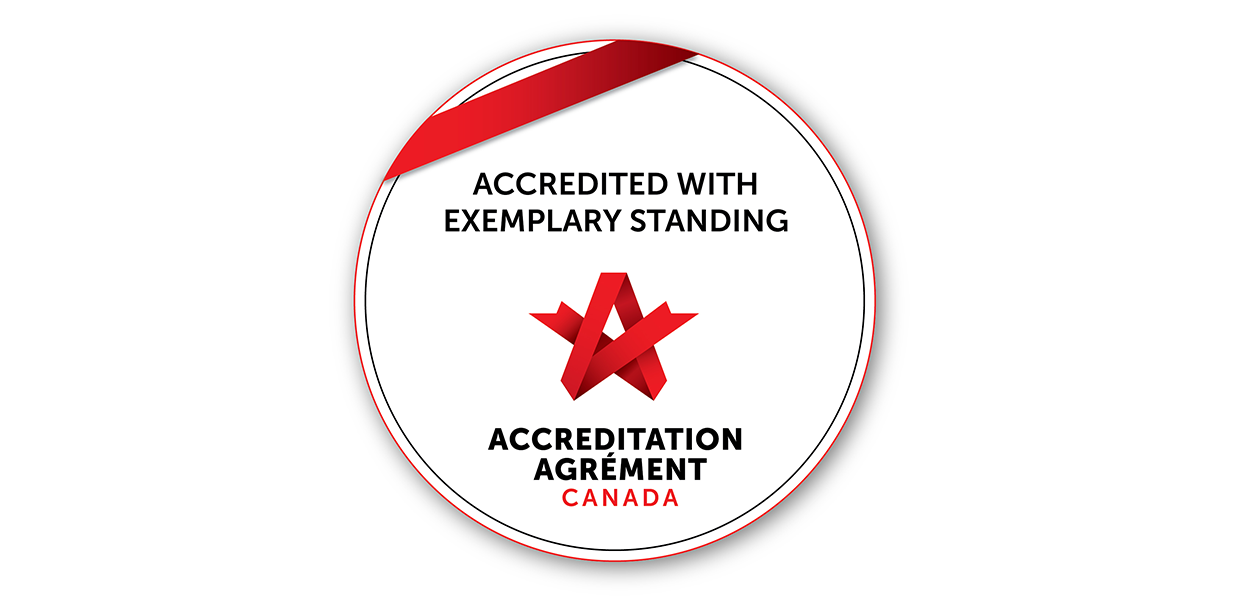 Northumberland Hills Hospital (NHH) is pleased to announce that it has been awarded Accreditation with Exemplary Standing by Accreditation Canada, an independent, not-for-profit organization that sets standards for quality and safety in health care and accredits health organizations in Canada and around the world. The designation is the highest award available through the hospital accreditation program.
A voluntary continuous quality improvement process, the exercise involved the thorough investigation of the hospital's processes and policies, and culminated September 12 through 15 with a multi-day on-site review by Accreditation Canada surveyors.
While on-site at NHH the Accreditation Canada surveyors met directly with frontline staff, physicians, midwives, patients and caregivers, and members of the hospital's leadership team. Volunteer partners were also consulted, including members of the Board of Directors and the hospital's Patient and Family Advisory Council, as well as community partners representing a broad range of local and regional partnerships
The quality and safety of patient care processes was examined together with the worklife culture. NHH met 100 per cent of the Required Organizational Practices set out for hospitals in six safety areas: Safety Culture, Communication, Medication Use, Worklife/Workforce, Infection Control, and Risk Assessment. In total, NHH met 99.4 per cent of applicable 2,316 Accreditation Canada standards, the broader criteria and guidelines required to provide high-quality care and service.
Particular strengths recognized by the surveyor team included: the Board of Directors; the strength of NHH's community and community partnerships, including but not limited to its work with the Ontario Health Team of Northumberland; strong, dedicated leadership; the "compassion, passion and commitment" shown by staff in "going above and beyond to support one another and the patients and families seen at NHH"; the high degree of NHH Foundation and Auxiliary involvement throughout the organization; and, finally, the high level of satisfaction exhibited by patients experiencing direct patient care.
"This achievement is the result of the hard work and dedication of each and every member of our team, be it staff, physicians, midwives, learners and volunteers, including our Board, Foundation, Auxiliary and Patient and Family Advisory Council," said Susan Walsh, NHH's President and CEO. "My heartfelt thanks and congratulations go out to each and every one for this achievement. Together with our partners, we are united in our commitment to quality and safety in local health care delivery."
While generally conducted on a four-year cycle, NHH's last Accreditation Canada survey took place in 2017. Delayed by several years due to the pandemic, the September 2022 on-site survey was the latest opportunity for teams throughout NHH to showcase performance against key priority processes while also highlighting the hospital's resilience through a period of unprecedented global and local change.
"As we know, Accreditation is not something with a start and a finish, it is a continuous process," said Elizabeth Selby, Chair, NHH Board of Directors. "Quality oversight is at the heart of our Board's responsibilities and we applaud the team's excellent result with the 2022 process. As a Board, we see time and time again that this team strives to deliver exceptional patient care, every time, but we appreciate, no organization can be exceptional all the time….there is always room for improvement and consideration of evolving practices. This latest review has been particularly important for our team, in light of the exceptional strain they have been under in recent years. We commend every member of NHH on this result. On behalf of the Board, I thank all those who were part of this important process, including our on-site surveyors, who took time away from their own commitments to thoroughly assess our organization against Accreditation Canada standards."
The full and final report will be shared on the hospital website in the coming days.