Latest in our efforts against COVID-19: Cautious, phased return to a new normal continues at NHH as province enters Stage 3
In-person visiting scheduled to resume at hospital next weekend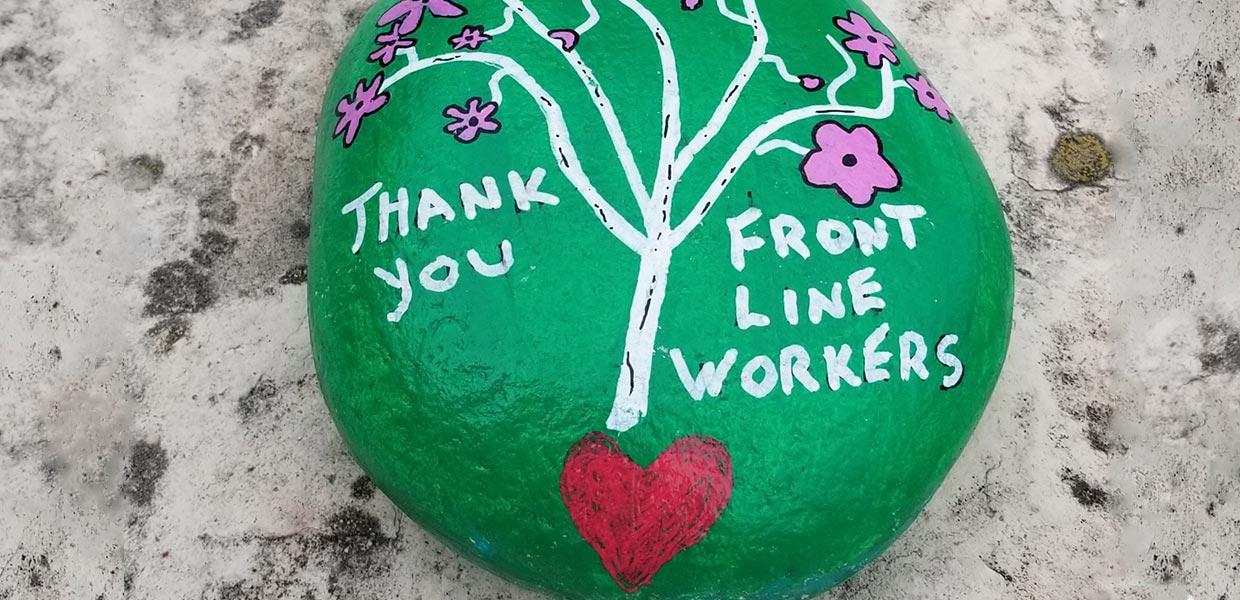 The ramp up of non-urgent surgeries, procedures and tests continues steadily at Northumberland Hills Hospital (NHH), with a cautious eye to the relaxing of many provincial restrictions on one hand, and the recent increase in confirmed cases in the region (now 24 with two hospitalizations) on the other.
Northumberland is among the Ontario regions approved to enter "Stage 3" of the province's reopening framework today, meaning that:
indoor gathering limits are now increased to a maximum of 50 people;
outdoor gathering limits have increased to a maximum of 100 people; and,
nearly all businesses and public spaces will reopen.
"While the province's reopening framework contains a broad range of public health and workplace safety measures and restrictions, including physical distancing requirements, our team at NHH remains cautious given the high inpatient occupancy levels within NHH today, the risks inherent in increased community interactions, and regular flu season not far out on the horizon." said Linda Davis, NHH President and CEO.
"The fact remains – COVID-19 is still circulating in the community," said Davis. "We are grateful for the province's slow and measured response to reopening, and NHH strongly encourages residents to continue to move forward while observing the preventive measures that have served us so well to date: physical distancing, wearing a mask when physical distancing might not be possible, hand-washing, and getting tested if you have concerns you may have been exposed to COVID-19," said Linda Davis, NHH President and CEO. "These steps are essential if we are to minimize the spread of COVID-19 and protect precious inpatient capacity."
Services continue to ramp back up at NHH. Guided by a multi-disciplinary Service Continuity and Planning Working Group, this includes:
surgical services, now at 80 per cent of pre-COVID-19 activity (e.g. colonoscopies, cataracts, hernia repairs and selected gynecological procedures)
diagnostic imaging procedures, now at 65 per cent of pre-COVID-19 activity (e.g. CT exams, MRIs, ultrasounds, x-ray, mammography, nuclear medicine and interventional radiology procedures, like joint injections and pain management);
small volumes of in-person ambulatory care clinic appointments; and
a limited number of in-person community mental health appointments through the Walk-In Counselling Clinic at 1011 Elgin Street West, Cobourg.
Safety for patients as well as staff and physicians remains top of mind with 'watch' indicators like inpatient bed capacity, availability of staff and personal protective equipment supplies being closely monitored as patient volumes increase in two-week increments.
Said Davis: "Our strategy has been to resume a service, or a portion of a service, then monitor patient flow to ensure the conditions required to safely continue re-opening remain in place and inadvertent bottle necks do not occur to impact the necessary physical distancing requirements. Wherever possible, virtual services are also being considered."
As in the earlier stage of NHH's ramp up last month, those awaiting surgery at NHH continue to be notified by the referring physician to arrange pre-operative COVID-19 testing, if required. Diagnostic imaging tests will be scheduled directly by the hospital. In all cases, pre-screening is being conducted by hospital staff, by phone, to review a standard set of COVID-19 questions, provide logistical details, and answer any questions.
Accessing COVID-19 testing
Open daily, 8AM to 4PM, and accessible through the Emergency Department entrance at NHH, the hospital's COVID-19 Assessment Centre continues to care for high volumes of patients. To date the Centre has supported over 11,013 virtual and in-person visits, 2,028 of which were completed in collaboration with Northumberland Paramedics at a range of local locations, from area long-term care and retirement homes, to Alderville First Nation's Health and Social Services. Of those visits, swabs to test for COVID-19 have been completed on more than 6,297 individuals—almost 2,000 swabs in the past month alone.
While walk-ins are accepted, it is strongly recommended that individuals call ahead to the Centre (905-377-7783) to schedule their assessment. This will help the team minimize wait times for all who need this service, and support physical distancing requirements. As always, if symptoms are severe, call 911 and alert the dispatcher to the potential concern regarding COVID-19 so they can be appropriately prepared.
Active screening at all public entrances
Active screening at the main front entrance, the Emergency Department entrance, and the dedicated dialysis/cancer and supportive care entrance continues. Questions are asked to assess COVID-19 risk of all who enter and temperatures are taken. Anyone who fails the screening test is asked to proceed to the assessment centre (or Emergency Department) for assessment.
Universal masking at NHH
Universal masking continues throughout NHH. Those coming into the hospital for an appointment or to the Emergency Department who already have a cloth mask in good, clean condition, are reminded to please bring it with them and plan to wear it throughout their visit. If you do not have a cloth mask, NHH will provide one for you which you can take home and reuse. The blue, non-medical masks distributed to patients and visitors at NHH are being generously sewn by a small team of local volunteers using material designed for the sterilization of medical equipment. Thanks to the effort of these 'blue mask' volunteers, many medical-grade masks have been preserved for use by front-line health care providers. If worn properly, cloth masks help to cover your mouth and nose to prevent your respiratory droplets from contaminating other people or surfaces around you. No mask is useful, however, unless it is worn and removed properly. See this video from the Government of Canada for information on how to wear a non-medical mask or face covering properly to continue to limit the spread of COVID-19.
Food and drink restrictions
Please refrain from bringing food and drink into the hospital when coming in for an appointment or to the Emergency Department. NHH requires masks to be worn by all who are able to tolerate them and, as such, food and drinks cannot be safely consumed.
In-person visiting to resume on weekends, beginning July 25
Visitor and family presence is integral to patient safety, the healing process, the patient's medical and psychological well-being, comfort and quality of life. While NHH had an open visiting policy prior to COVID-19, since the onset of the pandemic, traffic within the hospital has been restricted and in-person visits have been limited to essential visitors only, namely a patient that is dying or very ill; a support for a delivering mother; a parent/guardian of a child or primary family caregiver for an individual with specific needs.
Beginning Saturday, July 25, NHH is preparing to resume inpatient unit visits for one designated visitor or primary family caregiver in a set timeframe when traffic in and out of the hospital for outpatient care is typically low (weekends) and physical distancing requirements can be met. Further details will follow, closer to the July 25th date, assuming no significant local increase of positive cases between now and then.
NHH's Virtual Visiting program continue to be available. Over 170 of these have been coordinated since the Program launched in April. Virtual visits may be scheduled weekdays by contacting the hospital's Virtual Visiting Team at 905-372-6811 ext. 3146 or by email to virtualconnections@nhh.ca. Note: to protect patient privacy, the patient's full name should not be included in the email.
View/download the news release PDF