Healing Hands Award ceremony recognizes outstanding staff members at NHH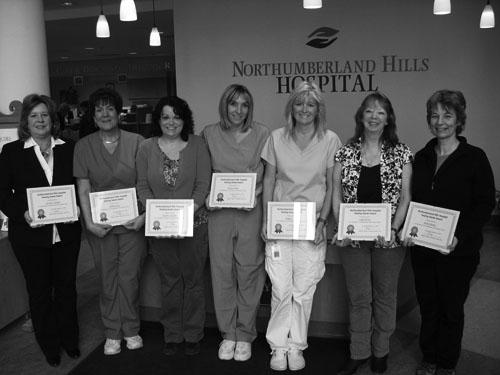 Hospital staff gathered in the Main Street Bistro today for the annual Healing Hands Award ceremony.
Presented to employees who continually demonstrate the hospital's values of integrity, quality, respect, collaboration and compassion, the Awards--presented since 2003--have become one of the most popular forms of staff recognition at NHH.
Robert Biron, President and CEO, opened the mid-day ceremony by thanking all those who recognized a colleague with a nomination. "Our hospital mission at NHH is to provide 'Exceptional patient care. Every time.' The people we are celebrating today have distinguished themselves among their peers by doing just that. They have consistently gone above and beyond in the course of their work and, by extension, they have also distinguished this hospital. I extend my sincere thanks for their dedication and commitment to quality."
The names of NHH's latest Healing Hands Award recipients are provided below, together with excerpts from the comments shared at today's presentation from their nominators. All were presented with a framed certificate and gift.
Debbie Davey, Medical Radiation Technologist/Sonographer, Women's Health - "Debbie is always smiling, highly energetic and a strong team player. She comes in extra early to accommodate urgent cases or works through breaks/lunch to accommodate the workload. She reduces patient anxiety through her demeanor and completes her work thoroughly and diligently. Debbie is always going above and beyond the call of duty to make the patient experience enjoyable. She is well respected in the Diagnostic Imaging Unit for bringing the team together."
Suzanne O'Hanlon, Staffing Coordinator - "Suzanne is very dedicated to our hospital, and always focused on ensuring the right people are in the right place at the right time…. She is tenacious in ensuring her job is well done. She supports staff and directors alike in ensuring schedules are developed in a fair and equitable manner. She goes above and beyond in her role."
Suzanne O'Rourke, RN, 2B - "Suzanne is a fantastic nurse who upholds high standards of professionalism, knowledge, courtesy and compassion. She is wonderful with patients and staff alike. She is a mentor for our students, taking the time to coach those who are new to the profession. She is trustworthy, compassionate with her peers and patients, knowledgeable and a great leader."
Linda Horner, Housekeeper - "Linda always works as a team member involving other staff in her decisions. She demonstrates respect and kindness with the patients. She is always thinking of new ways to reorganize or clean. Patients notice and appreciate her kind and thorough efforts."
Bridget Lessard - RN, Chemotherapy - "Bridget consistently demonstrates our core values in her daily duties. She is never too busy to answer patients' questions or explain processes or treatments. She models respect along with kindness and great nursing practice as she carries out her daily duties…. She approaches her work with a spirit of continuous improvement, dedicated to constantly evaluating a system or her own practice to make improvements in patient care whenever possible."
Jennifer (Jenn) Bevan, RN, Birthing Suites - "Jenn lives the NHH values every day, helping to bring new lives into the world and families adjust to their new responsibilities. She works efficiently as a member of the obstetrical team and is always lending a helping hand, whether that is with a new mom or a member of the hospital staff. She is respectful of patients and her peers. She steps in to help without being asked and she practices her profession with high standards…. Jenn is a quiet but deliberate nurse who creates a very positive work place for her peers and a caring environment for her patients."
Kathy Chomitz, RN, Palliative Care - "A caring and compassionate nurse, Kathy has a unique ability to understand people and anticipate their needs. Her gift with relationships and human reactions combines perfectly with her vast clinical knowledge…. She is a natural 'go to person' in the Unit for colleagues seeking advice…. She is as supportive and caring to her team as she is to her patients. Patients and families are continuously praising Kathy for her calm and gentle demeanor. A comment often received from patients in Kathy's care is: she makes them feel safe."