Annual Members' Meeting coming up June 28 – all welcome!
The Annual Meeting of the Members of the Northumberland Hills Hospital (NHH) will be held this year on Tuesday, June 28 at 5:00 PM. The meeting will be hosted virtually, via Zoom, and attendees are encouraged to join the meeting via the link below.
Join Annual Meeting on Zoom, June 28, 5PM:
https://us02web.zoom.us/j/81074873412?pwd=NXpZV21tL1ZZc25MQWRSQVB Xay9rZz09
President and CEO Susan Walsh will open the meeting this year with a review of the hospital's unique strategic planning process and community consultation, currently under way in collaboration with the Ontario Health Team of Northumberland.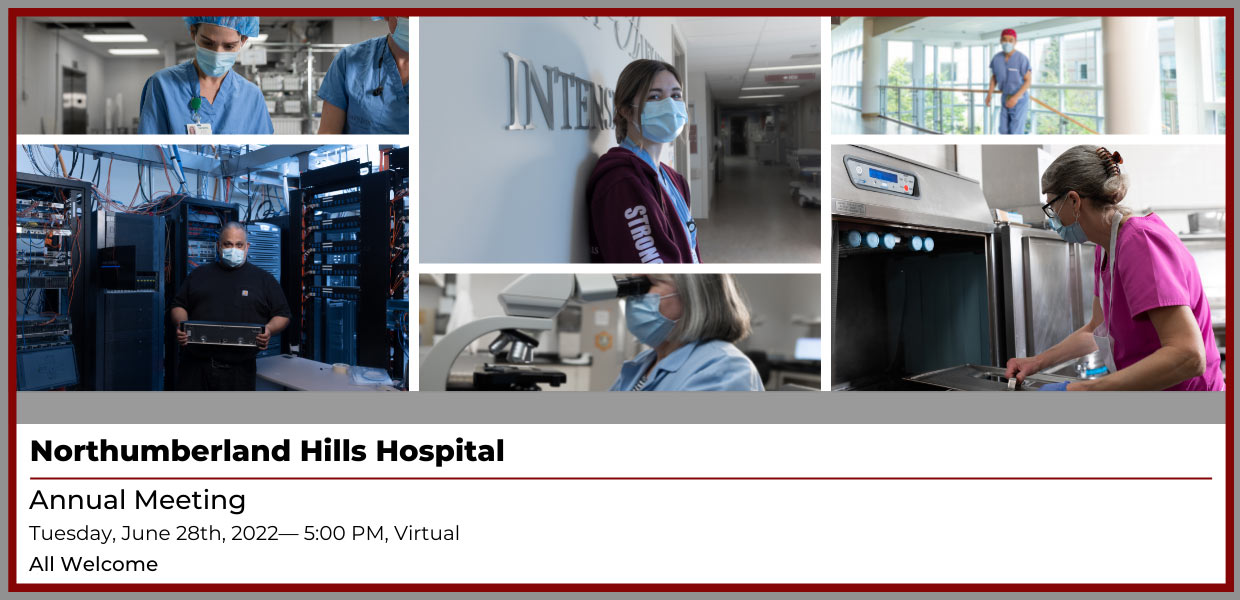 Items of business for the June 28 meeting include the following:
Minutes of the 2021 Annual Meeting
Report of the Chair
Audited Financial Statement, 2021-2022
Report of the Auditor - KPMG
Re-appointment of the Auditor for 2022-2023
By-Law Amendments
Report of the President and CEO
Report of the Nominating Committee (Election of Directors)
Copies of NHH's 2021/22 Audited Financial Statements for the year ended March 31, 2022 are now available under the Accountability tab of the hospital website here. Hard copies are available on request.
A question-and-answer period will follow the items of business at the Annual Meeting and, as always, community and media partners are warmly welcomed to join.